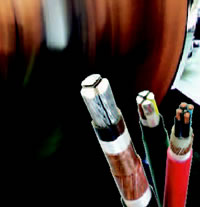 Обзор
ООО "Техноэлектро" предлагает весь спектр продукции финской компании BELDEN в Украине. Обратившись в нашу компанию Вы получите полную техническую и ценовую информацию по продукции BELDEN.

Перейти к каталогу 2007 года, рус >>>

ОБЗОР ПРОГРАММЫ
Wire and Cable Solutions for High Quality, Top Performance and Total Reliability.
Belden® offers over 3,000 cable and connectivity components (including fiber optics) for applications in Computer/Networks, CATV, Industrial, Entertainment and Security.

Belden is a signature brand and includes such products as multi-conductor, paired, coaxial, flat and fiber optic cables, plus portable cordage, molded cable assemblies, hook-up and lead wire. Key market brands include: Brilliance® entertainment/broadcast cables, New Generation® sound, security and alarm cables, IndustrialTuff® industrial/factory floor cables, residential cables, and DataTwist® networking cables.


Multi-Conductor and Paired Cables, Shipboard Cables, Security and Alarm, Industrial Data (Ethernet..)
The Broadcaster's Choice: HDTV Fiber/Copper Composite Cables, Mobile Fiber, AES/EBU Digital Audio Cables, Video Triax...
Coax Cables, Composite Cables, Brilliance® VideoTwist® UTP Cables, Bonded-Pair Data Cables...
Belden® Cable and Connectivity components including Fiber Optics
Audio Cables, Video Cables, Network and Control, Security and Alarm
Interconnect and Breakout Cables, Mobile and Tactical Fiber Cables, Central and Multi Loose Tube Cables
Belden IBDN: 10GX®, 4800LX, 2400, 1200 Systems, Patch Panel Series, GigaBIX®, Fiber...
Belden Wire and Cable Green Initiatives.